WDL-100L Electroic Servo Horizontal Tensile Testing Machine
1. Applications
Test types: tension test for steel rod, wire rope, steel wire, steel strand, chain or other samples required by client
Application field: construction and building industries, metallurgical industry, transportation industry, energy resources industry, scientific research unit, college and universities, quality inspection center, commodity inspection department, etc.
2. Introductions of the machine
l Adopt frame structure, electric loading, test force is loaded via precise ball screws.
l Equip with manually glass protecting shield, when doing test, close protecting shield for avoid any flying out of breaking test sample
l Computer test software display test force and displacement in real time and has functions of auto analyze, process and save test result. Printer is equipped for printing required test report.
l High rigid of main loading frame, small deformation during test, test space adjusted from 0mm to 5m range continuously
l Adopt closed loop control to drive electroic servo control system, computer software control test procedures. It loads stably and continuously and has functions of force maintaining, auto collecting test data and display test curves.
3. machine pictures for reference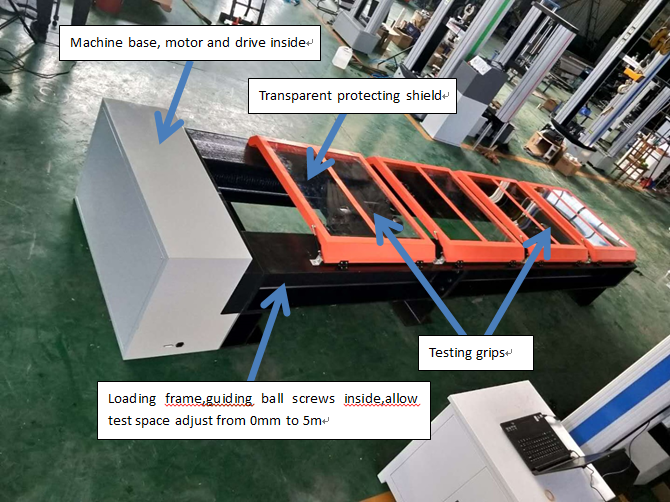 4. technical specifications
| | |
| --- | --- |
| Force capacity | 100KN |
| Frame structure | Servo motor and driver, ball screws guiding |
| Loading speed | 0.5-50Kn/S |
| Control mode | Computerized electronic servo control |
| Test type | Tension test in ambient temperature |
| Over load protecting | 105% of force capacity |
| Accuracy of force indicating | Better than ±1% |
| Resolution of force | 1/500000 in whole capacity |
| Force measuring range | 1%-100%FS(0.5-50KN) |
| Accuracy of force control | Better than ±1% |
| Accuracy of stress control | Better than ±1% |
| Accuracy of displacement control | Better than ±1% |
| Resolution of displacement | 0.001mm |
| Accuracy of displacement speed | Better than ±0.5% |
| Moving speed of crossbeam | 0-150mm/min |
| Test space adjust range for tension test | according to test specimen size |
| Clamping method of tension grips | Pin through, wedge clamp |
| Max. distance between grips | according to test specimen size |
| Width for tension test(distance between two columns) | 800mm |
| Center height for tension test | 600mm |
| Dimension | according to specimen size |
| Weight | according to dimension |