News
Plastic film, plastic bag right angle tear test
Plastic film, plastic bag right angle tear test
1. Test material
Plastic films, sheets and other similar plastic materials
2. Reference test method
GB/T 10004 Plastic composite film for packaging, dry lamination of bags, extrusion lamination
QB/T 1130 Test method for right-angle tearing properties of plastics
GB 1040 Test method for tensile properties of plastics
GB 2918 Standard Environment for Conditioning and Testing of Plastic Specimens
GB 6672 Determination of the thickness of plastic films and sheets - Mechanical measurement method
3. Test conditions
Temperature: (23±2)℃
Relative humidity: (50±10)%
4. Sample
4.1 Sample shape, as shown below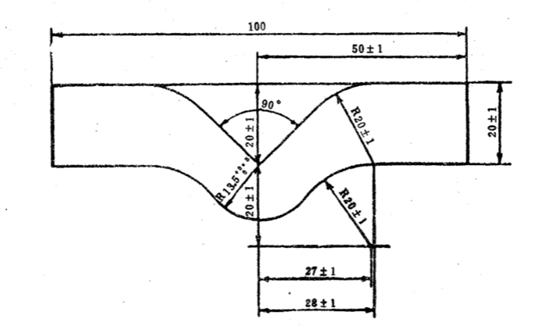 4.2 Number of samples
Longitudinal sample: at least 5
Transverse specimen: at least 5
5. Tensile testing machine, as shown below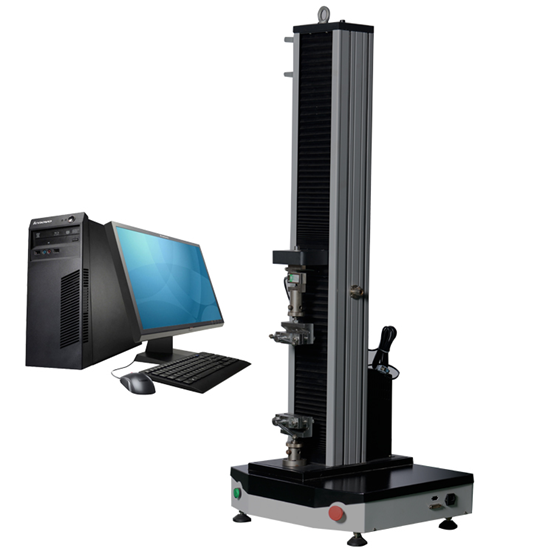 Technical parameters of tensile testing machine
No

Item

Specification

1

Force capacity

100N,200N,500N,1000N,2000N,5000N

2

Force measuring range

0.4%-100%FS

3

Error of force value

Less than ±1% of set value

4

Resolution of test force

1/500000

5

Displacement resolution

0.0025mm

6

Accuracy of elongation measuring

±0.5%

7

Crossbeam speed range

0.05-500mm/min

8

Precision of displacement speed control

±1%(0.01-10mm/min); ±0.5%(10-500mm/min)

9

Accuracy of constant force, constant displacement, displacement elongation control

When set value is less than 10%FS,error is less than ±1.0% of set value

When set value is more than 10%FS,error is less than ±0.1% of set value

10

Accuracy of deformation control

When set value is less than 0.05%FS,error is less than ±2.0% of set value

When set value is more than 0.05%FS,error is less than ±0.5% of set value

11

Distance between tensile grips

650mm

12

Voltage

Single phase,220V±10%,50Hz

13

Dimension

520x480x1550mm

14

Weight

80kg
6. Test procedure
6.1 Using the cutter as shown in the figure below, cut out at least 5 longitudinal and transverse samples each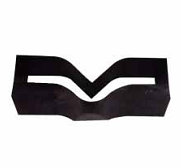 6.2 Measure the thickness at the right-angle opening of the test sample or the superimposed sample group as the thickness of the sample
6.3 Open the tensile testing machine and testing machine software, and run the testing machine.
6.4 Select the appropriate test method in the test software, create a new test, and enter the test time, test person, sample thickness, sample number, etc.
6.5 The tensile jig shown in the figure below can be used to hold the right-angle tear sample firmly.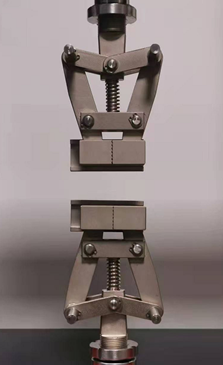 6.6 Set the specified test speed, such as 200mm/min, click the start test in the test software, and the test starts. During the test, the test software automatically displays the test force value, test time, displacement, deformation, test curve, etc.
6.7 When the sample is broken, the test software calculates the right-angle tear strength of the sample as required, and can connect to the printer to print the test report.
7. right angle tearing force requirements for plastic films and plastic bags
Item

BOPP/ex

PE-LD

(Ordinary grade)

BOPP/dr

PE-LD

(Ordinary grade)

PA/dr CPP

PET/dr CPP

(boiled grade)

PA/dr CPP

PET/dr CPP

(Semi-high temperature cooking grade)

PA/dr CPP

PET/dr CPP

(High temperature cooking grade)

Tear force(N)

Vertical/ horizontal

1.5

3.0

6.0
We specializes in the production and sales of electronic and hydraulic universal testing machine,electronic and hydraulic tensile testing machine, bending testing machine, horizontal tensile testing machine, impact Testing machine, concrete cement compression testing machine, compressive and flexural integrated testing machine, pellet compression testing machine, manhole cover compression testing machine, tensile stress relaxation testing machine, etc. Welcome your calling or visit